Using a Web Name is one of the options available to you if you are concerned about privacy. The Web Name is a pseudonym, such as 'Rockhopper' or 'Helen J'. If you choose, in your Membership Application form, to have a Web Name, the Web Name will display in the online Member list, instead of your real name.
You can change your Web Name whenever you wish, or revert to your real name, by logging in, making the change in My Profile and clicking on Submit.
The Club database continues to store your real name. If you book on an activity, the Leader will be able to see your real name. Authorised Committee members can access your real name.
In the online Membership list, your Web Name will appear where your real name would have appeared. For instance, if your real surname is Smith and your web name is Acacia, the list will show an entry for a Member called 'Acacia' but it will appear in the S Section. It would be more useful if it appeared in the A section, but the Club's software developers were unable to make that happen.
You might like to let Club Members you trust know what your Web name is, so that they can find your details – such details as you allow to appear – via the online Member List if they need to contact you.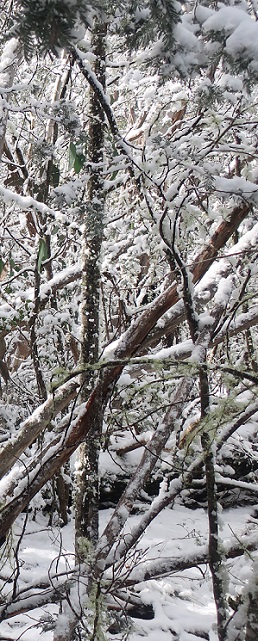 Snow patterns near Booths Hill, Namadgi, in August