River Crossing Training, 18th February 2018

Twenty-five Club members attended a half-day river crossing course on 18th February 2018. They learnt how to assess a river, solo crossing techniques, team crossing techniques, and techniques for swimming with a pack. Lorraine Tomlins, Rowan Peck and Linda Groom provided the training. The contents of the course followed the Club's River Crossing advice. Brilliant sunny weather, cool and clear water, and keen participants – a perfect and instructive day.
Image: Practicing team crossing techniques, Cotter River

1 Mar 2016-28 February 2017 – 

Step out and step up

This incentive program encourages you to walk with at least 20 different walk leaders on CBC advertised walks commencing in the period 1 March 2016 – 28 February 2017, inclusive. It provides the opportunity to meet new people and to visit new areas. Participation will be recorded from Acknowledgment of Risks and Obligation forms returned by walk leaders to check.in@canberrabushwalkingclub.org .

See the results to check out how you went.
Image: Stepping out on a family walk, jointly organised with NPA, Brooks Creek, Gundaroo area
7- 17 October 2016 – Visit by Hobart Walking Club
Between 7 and 17 October 2016, the Canberra Bushwalking Club hosted a very successful week-long visit by the Hobart Walking Club. The special program included a choice of walks every day – generally 3 – and multi-day walks, as well as social events. Walks ranged from an urban tour of paths in Gungahlin with a focus on architecture and design, to the Wave Cave and Mt Gudgenby. Around 20 HWC members attended.
HWC hosted CBC for a similar week, based in Hobart, in March 2016. One aim of this exchange program is to allow each club to benefit from the host club's local knowledge.
Image: HWC member Stacey admiring the view of Monolith Valley, from the side of Mt Owen, Oct 2016
Mar 2016 – CBC visit to Hobart
In March 2016, 18 CBC members took advantage of the generous invitation by the Hobart Walking Club to spend a week walking with them. The HWC put on a great program, which included a 4 day walk to climb Geryon North, a trip to the Tyndalls, walks at Mt Field based in the HWC's own hut, and several day walks. Plus a dinner at a delightful old pub.
The walks certainly met the aim of this exchange program, which was to allow the visitors to walk in places that needed expert local knowledge. The week was co-ordinated by Alison Street (HWC) and Lorraine Tomlins (CBC).
Image: CBC member Peter May on the summit of Geryon North, a trip led by HWC's John Street, March 2016
21-22 February 2015 – 

Alpine weed control: Kosciuszko National Park

In 2014 CBC embarked on an exciting new conservation partnership with Greening Australia (GA), NSW Parks and Landcare Australia. Through the partnership, CBC volunteers were trained to recognize, report and take action to help control the spread of noxious weeds that threaten the unique alpine plant life found in Kosciuszko National Park.

During the weekend of 21-22 February, a group of Club volunteers carried out weed removal, mulching and weed spotting in the Rawson's Pass, Charlotte's Pass and other areas of KNP's Main Range. They also, under NPWS supervision, planted over 400 plants at Rawsons Pass.

Greening Australia provided lodge accommodation and most food for the volunteers, with shared cooking arrangements. The weekend was both a good opportunity to protect a beautiful place in which many of us like to walk and to enjoy socializing with other CBC members.
Image: CBC members planting and mulching, at Rawsons Pass
1 March 2015 – 29 February 2016 – 

Totally Topo!

This incentive program was intended to promote activities in areas that Club members do not normally visit. The aim was to travel on foot (walk, ski, canyon, etc) on routes over as many maps as possible over the course of 12 months.

Day and overnight categories are provided in an attempt to improve the program's fairness. Note that the definition of a day activity for this program is a little different from that which normally applies. For Totally Topo, if an activity is to be considered a day activity, travel to and from the activity as well as the activity itself must be completed between 5 am and midnight on the one day.

A target number of maps is provided for each category. The ACT is covered by 17 maps (but one area is inaccessible) so 16 is the target for this category. Some inventive routes may be required for a couple of the ACT maps to meet the distance or time requirements. As usual, all activities must respect requirements for entering private land or land with other entry restrictions.

Check out the results and rules.

Thanks to Keith Thomas for organising this event and collating  the results.
2013 – Centenary of Canberra 'Stretch your legs' events
2013 was the centenary of Canberra and in the spirit of celebration we had a couple of special events designed to further encourage our participation in Club activities.
Walk with 20 different walk leaders in a year and
Visit 40 different ACT trigs in a year.
Results
245 walkers walked with 55 different leaders and bagged 87 ACT trigs. Check the results list.
How it worked
The 'event year' was 13 March 2013 – 11 March 2014. Results for both events were collected from Acknowledgment of Risks and Obligation forms submitted by walk leaders. If a walk was advertised with a co-leader, that counted as 2 leaders in each participant's tally. The ACT trigs recognised for the event are based on a 1985 list. As with all Club walks, permission was sought to walk on private land. Thanks to John Evans for organising the Stretch Your Legs program.
Image: Trig bagging, one of the Club's ACT Centenary events
2012 – Broom clearing 20th anniversary
Every year since 1992 the CBC has organised a Broom clearing day at Cotter Flats in the Bimberi Wilderness area of Namadgi National Park. Broom is an invasive weed species which is prevalent in this area.
We had 20 Club participants for the the 20th anniversary of the Canberra Bushwalking Club (CBC) Broom clearing project.
Twenty years ago, CBC member, John Thwaite, thought about combining his love of bushwalking with his concern for conservation efforts and the desire to institute a long term conservation project for the Club. Through negotiations with the ACT Parks and Wildlife Service, John's efforts resulted in an annual Broom clearing exercise around Cotter Hut.
Over the last 20 years, the Club has removed many thousands of plants and in 2012 we removed over 600 plants.
Many members of the Club have participated in this exercise over the past 20 years, though records prior to 2003 are not accurately recorded. However, of note, Roger Edwards has missed only one year during this 20 year project.
Broom clearing days continue to be held annually, usually in November.
Alison Milton
Image: Broom clearing group, near Cotter Hut, 2012
11 Nov 2011 – 50th anniversary dinner
Over 80 people attended the 50th Anniversary dinner at the Southern Cross Yacht Club on Friday 11 November 2011.
The stunning centrepieces were designed by Cynthia Breheny and set-up by her and a small team of enthusiastic helpers. The speeches were kept to a minimum with the President giving a short speech and then John Evans presenting the awards for the 50 peaks in 50 weeks competition. Not surprisingly, Phillip Starr had the highest number of points and had climbed the highest number of peaks (75). All this before he broke his ankle. No doubt he would have reached 100 peaks if this had not been so.
The 50th anniversary book (PDF) was 'launched' at this event with all participants receiving a copy of the book, whether they were current members or not. Many members enjoyed a stint on the dance floor with even the older members getting up to 'shake their thing'.
In the 50th anniversary book (PDF), there are a couple of errors in the list of Presidents and Walks Secretaries to 2011 ; a corrected list (PDF) is available.
Image: Dancing at the 50th anniversary dinner
19-20 Nov 2011 – Bungonia revisited
This trip commemorated a walk completed 50 years ago when a group of enthusiastic young bushwalkers went through Bungonia Gorge and downstream along the Shoalhaven River to what was called Cedar Flats for camping and swimming. A few months after this walk, members of the group formed what became the Canberra Bushwalking Club. Every 5 years the Club celebrates by following the same route or the easier route via Mt Ayre.
The indomitable Gösta Lynga, one of the Club's founding members, was to have led this walk but a temporary physical indisposition forced him to withdraw from the trip. Instead Alan Vidler emerged from his temporary bushwalking retirement to lead the trip. On Saturday morning Alan and his party of three – Margaret Roseby, Rupert Barnett and Rene Davies – piled into Alan's commodious 4WD and headed for Bungonia via Goulburn.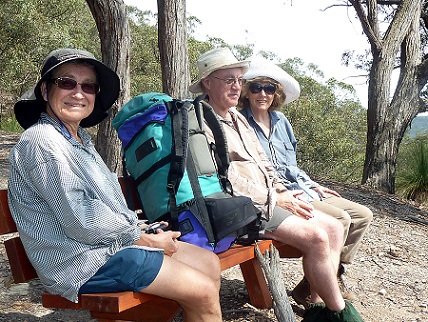 Image: Bungonia revisited 2011,  participants Irene Davies, Alan Vidler and Marg Roseby at top of Mt Ayre track, by Rupert Barnett
50 peaks in 50 weeks
The 50 Peaks in 50 Weeks program was a huge success. Over two-thirds of members participated. We stood on a few hills and breathed plenty of fresh air. Five members topped 50 or more peaks and certificates were presented to Phillip Starr, John Evans, Chris Francis, Nathan Holt and Edwina Yee at the recent 50th anniversary dinner.
Points were awarded on the height of the peak and the length and difficulty of the walk. Certificates were also presented to those members who gained 100 or more peak-walk-points: Karen Cody, Rob Horsfield, Stan Marks, Brendan Kelly, Quentin Moran, Di Gillies, Stephen Marchant, Russell Howroyd, Jenny Horsfield, Linda Stone, Ralph Young, Jeff Bennetts, Lorraine Tomlins, Lois Padgham, Adan Lilley, Carol Anderson, Mike Bremers, Barry Keeley and Peter Conroy.
This idea was proposed by Janet Edstein with support from Terence Uren and with John Evans offering to put the idea into motion and writing the rules (aka the '50 peals manifesto'). The point scoring system was developed by Colin Boreham.
The results page lists the individual totals. A list of peaks climbed is also available.
Image: Castle Hill, ACT, one of the 50 peaks visited on Club trips in 2011, by John Evans
23-24 May 2009 – 

Wog Wog to Corang Peak Track Clearing

On a rather wet weekend of 23rd & 24th of May a party of 15 enthusiastic "gardeners" from the CBC and NSW National Parks cleared a 4 km section of the Wog Wog to Corang Peak Track in Morton National Park (Budawang Ranges). The track is now much safer for walkers. Here's the Track Clearing Team and some members hard at work.
Image: Clearing the Wog Wog to Corang track, May 2009
20-21 Oct 2007 – Folly Point Track Repair
It was a rather warm weekend but 17 CBC members in conjunction NSW National Parks cleared all but the last kilometre of this well known 6 km walk in the northern Budawangs, Morton National Park.
We had the opportunity of driving from Sassafras along all 8.5 kms of the fire trail leading to the Folly Point track head at Newhaven Gap – the last 6 of which you normally have to walk along as well.
Image: Folly PoInt track clearing team 2007